Major Horticulture Crops grown in the State
The Department of Horticulture & Soil Conservation, Manipur have identified 2,77,064 Ha.as potential area for growing different horticulture crops like Fruit, Vegetable, Spices Root & Tuber crops, Aromatic & Medicinal plants etc. At present, the area under horticulture in the state is 44.335.ha. It is the only 16% identified horticulture area till 2002-03
Tropical and Sub-tropical fruits:
Among fruits, Banana, Pineapple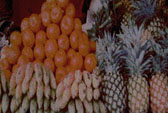 and Citrus take a major share in area and production. The other fruits which are grown in sizeable area are Guava, Papaya etc. Banana is native to this region (Tamenglong). Pineapple is mostly grown on hill slopes as rainfed crop. Giant Kew and queen are the two leading varieties being grown.
Kew is suitable for processing whereas Queen is grown for table purposes. In citrus, Khasi Mandarin and Orange is most popular. Lemons like Assam, Eureka and Kachai lemon are grown under foot-hill condition of Ukhrul, Churachandpur, Tamenglong and Senapati. Remarkable area of Hatkora(Citrus) used as spice is recorded in warm humid areas of Chandel and Jiribam.
Temperate fruits :
Peach, pear and plum are being grown successfully on higher altitudes mostly low chilling varities are performing well.
Pear : Leconte, Smith, Keifer, Coslin etc.
Peach : Flordasum, Shane-Punjab, Sharbati.
Plum : Santa Rosa, Doris, Mariposa.
Vegetables:
The Scenario in vegetable fron is much more promising.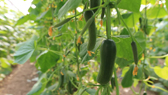 Low productivity in most of the vegetable crops grown is directly connected to the use of genetically inferior varieties coupled with low input farming and incidence of insect pests and diseases. Several improved and high yielding varieties and F1 hybrids are now available for large scale adoption. In Manipur the valley land , after the harvest of paddy, is being successfully utilized for large scale cultivation of vegetables. Now the farmers have started using F1 hybrids and high yielding OP varieties
The state abounds in cucurbitaceous vegetables like Pumpkin, Bottle gourd, Ridge gourd, Cucumber and Dolichos, Vigna, Phosphocarpus and Phaseolous and Phaseolous vulgaris(French bean), Among solanaceous vegetables, brinjal, tomato, chillies and capsicum hold great promise. In cole crops, Cabbage and and cauliflower are grown in limited area. Among exotic vegetables, brussels sprout and broccoli also hold good promise due to favourable climatic conditions but these are not popular among the farmers.
Off Season Vegetables:
In the high altitude hills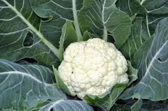 it is possible to grow crops like tomato, cabbage, cauliflower, radish etc. as summer rainy season crops. Promising off season crops were found growing in temperate areas of Mao under Senapati District. Off -season cultivation of vegetables (tomato, cucumber, melons) under protected condition were also started in valley areas.
Mushroom: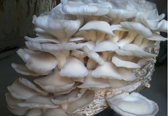 Mushroom, a nutritionary food item is common among the people of manipur since ages. Cultivation of Mushroom is getting momentum mainly on Agaricus, Volvariella and Pleurotus. Introduction of Mushroom cultivation as an industry will be the pivotal role for employment and income generation.
Root & Tuber crops:
Indegeneous food - crops like Colocassia,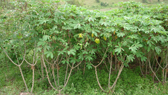 Sweet potato, Tapioca etc. played main role in remote hill areas. Development of agro - technique in this regard will suffix the need.
Spices:
Three commercial crops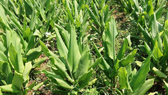 need mention in this respect, viz, ginger, turmeric and large cardamom. In ginger, varieties viz. Nadia, Poona, Suprabha were found promising. In case of turmeric G.L. Puram. RTC! and Lakadong were found promising. Large cardamom is a potential crop for the state.
Aromatic & Medicinal plants:
The vast plant resource (medicinal) recorded uptil now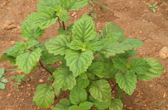 are limited to about 1200 to 1300 species. Out of this partly a few hundred(400/500) are used by the local people for the treatment of ailments so far recorded and local uses of the rest could not be available. The villagers living in direct national plant- environment rather than the modern allopathy treatment should be emphasized as priority. In the context, it is an apt to say that the state herburium, plantation policy, development of medicinal plants and pollution control, proposed during the year, 1994 under the Chairmanship of the then Advisor (P), Shri P.P. Shrivastav, Advisor to the Governor of Manipur initiated the importance of medicinal plants.
Moreover, aromatic plants also will play a main role in social, economic upliftment and environmental friendship.
Floriculture :
The suitable agro-climatic conditions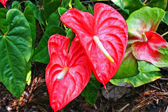 of the state clearly indicate that wide range of ornamental crops can be grown, which can improve the economic conditions of the growers. The most promising flowers, which grow extremely well in different parts of the state are Gladiolus, Lillies, Chrysanthenum, Roses, Anthurium, Gerbera, Dahlia etc. Special mention may be made about orchids. Cymbidium, Paphiopedilum, Dendrobium are in great demand and can be successfully grown. Siroi Lilly is endemic to Manipur, however, there is no perceptible area under floriculture as it is confined to courtyard of the houses, government institutions etc.
Crop diversification:
Olive, amla, ber, pumelo etc.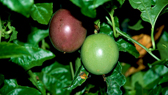 were already growing wild. It should be cultivated as a regular crop. Similarly, strawberry could be grown to earn quick return in the prevailing/increasing demand for the fruit in the cities.Kiwi is another fruit, which could be introduced for Mao and Ukhrul areas. It is high in demand and fetches very high price in the market besides its long keeping quality.Large-scale cultivation of crops like black pepper,cinnamom and other tree spices should be encouraged.
The strategies for the state should be low volume high value crops preferably those having low perishability.Cashewnut can be introduced in suitable areas.The launching of Passion fruit farming in Senapati Dist. has opened a new approach to in situ Horticulture based farming in the state . Common varieties grown are Australian Purple, Common Purple, Kapha selection, Prat Hybrid, Kaveri etc.
What's New
General Information